I mentioned Auschwitz in my last post, where I described my trip to Kibbutz in Tirat Cvi. Although it's not one of the hottest, coldest, highest or deepest place in the world, it was really unforgettable trip for me. That's why I've decided to describe my Auschwitz tour in my blog. First of all, to encourage all of my readers to visit this place – it's something you just have to see in your life.
Poland was never on my list with places that I have to visit before I die. However, after my trip to Kibbutz, that was affected by the World War II, I've started to groove on the Holocaust in Auschwitz. I've read few books and watched few movies about it and finally decided to go on Auschwitz tour.
As I have my good friend in Poland, I was staying in his place for one week. He lives in Krakow in Southern Poland and Auschwitz is located only 70 km away from that city. Marcin (my friend) was already several times on Auschwitz tour and he recommended it to me as well. In general, many people recommended it – I did not meet anybody who would say that it's not worth to go there. My stay in Krakow was kind of crazy as my friend took me to the best parties in the city. I also met many new people that I keep contact with till today.
However, the reason why I came to Poland, was of course Auschwitz tour. I was very curious about the story of prisoners that ended up in Auschwitz concentration camp during the period of world war II. Things that I saw there were enough to satisfy my curiosity. Actually, I didn't expect that it will have such an impact on me and my emotions.
I chose to book the tour with a travel company called KrakowDirect. I can truly recommend it – we watched interesting introducing video during our ride and the driver was very friendly and caring about its passengers. We were driving for only 1 h 15 min each way and the whole trip took around 5 hours.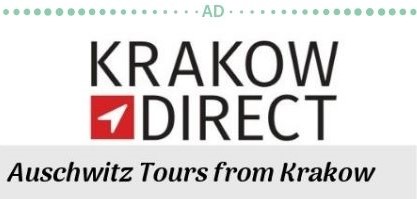 Our group started Auschwitz tour from entering the gate with infamous writing that says: "Arbeit macht frei". It literally means "work makes you free" which is the biggest irony I've ever saw in my life. Concentration camp in Auschwitz was created not to make people free, that's for sure. Although the original purpose was to hold the Resistance and political prisoners, soon it turned into places of Jews mass extermination. There are still ruins of gas chambers and crematories within the area of the museum. However, the things that really shocked me, were huge piles of prisoners's shoes, luggage, glasses and utensils. I guess it was the most terrifying exhibition that I saw on Auschwitz tour.
Although this trip did not fall into the pattern of my plan to visit places with abnormal temperature, it was for sure one of the strangest place I've been to. It's hard to believe that such place ever existed in history and that so many people contributed to create it. To sum up, my Auschwitz tour was really satisfying but also significantly terrifying one.